Up to 80 l/min (high performance) and 40 l/min at 350 bar.
International standard interface. The valve mounting face conforms to ISO 4401, size 03 and is compatible with related international standards.
Moulded coils for maximum insulating properties, which are impervious to dirt and moisture.
Plug in solenoid for ease of maintenance. 
Click here for the Eaton Vickers website.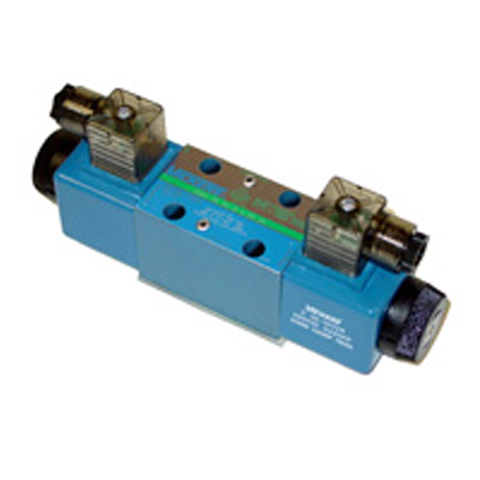 EATON CETOP DG17V3-2C-60
02-127343
Unit Weight: 1.8600
EATON CETOP DG17V3-2N-60
02-127344
Unit Weight: 1.8600
EATON CETOP DG17V3-6C-60
02-135316
Unit Weight: 1.8800
EATON CETOP DG17V3-6N-61
02-135673
Unit Weight: 1.8600
EATON CETOP DG3V3-2C-7B-60
02-154597
Unit Weight: 1.1800
EATON CETOP DG4V3-0A-MU-G7-60
869858
Unit Weight: 1.7000
EATON CETOP DG4V3-0BL-MU-ED6-60
506779
Unit Weight: 1.7000
EATON CETOP DG4V3-0B-MU-G7-60
859168
Unit Weight: 1.7000
EATON CETOP DG4V3-0B-MU-H7-60
859160
Unit Weight: 1.7000
EATON CETOP DG4V3-0C-MU-ED6-60
859199
Unit Weight: 1.9100
EATON CETOP DG4V3-0C-MU-G7-60
869576
Unit Weight: 1.9100
EATON CETOP DG4V3-0C-MU-H7-60
859162
Unit Weight: 2.3000
EATON CETOP DG4V3-2AL-MU-A6-60
859190
Unit Weight: 1.7000
EATON CETOP DG4V3-2AL-MU-H7-60
859211
Unit Weight: 1.7000
EATON CETOP DG4V3-2A-MU-A6-60
859169
Unit Weight: 1.7000
EATON CETOP DG4V3-2A-MU-ED6-60
859171
Unit Weight: 1.7000
EATON CETOP DG4V3-2A-MU-G7-60
859189
Unit Weight: 1.7000
EATON CETOP DG4V3-2A-MU-H7-60
529762
Unit Weight: 1.6900
EATON CETOP DG4V3-2B-MU-A6-60
859208
Unit Weight: 1.7000
EATON CETOP DG4V3-2B-MU-G7-60
859204
Unit Weight: 1.7000
EATON CETOP DG4V3-2B-MU-H7-60
859210
Unit Weight: 1.7000
EATON CETOP DG4V3-2C-208-MU-HH7-60
02-330085
Unit Weight: 2.2100
EATON CETOP DG4V3-2C-MU-A6-60
529761
Unit Weight: 1.9300
EATON CETOP DG4V3-2C-MU-ED6-60
859173
Unit Weight: 1.9000
EATON CETOP DG4V3-2C-MU-ED6-60EN409
02-319205
Unit Weight: 1.9100
EATON CETOP DG4V3-2C-MU-G7-60
859212
Unit Weight: 2.3000
EATON CETOP DG4V3-2C-MU-H7-60
529760
Unit Weight: 2.2400
EATON CETOP DG4V3-2N-MU-H7-60
529764
Unit Weight: 1.7000
EATON CETOP DG4V3-6B-MU-ED6-60
859729
Unit Weight: 1.5000
EATON CETOP DG4V3-6B-MU-H7-60
859487
Unit Weight: 1.7000
EATON CETOP DG4V3-6C-208-MU-HH7-60
02-301358
Unit Weight: 2.2200
EATON CETOP DG4V3-6C-MU-A6-60
859177
Unit Weight: 1.9200
EATON CETOP DG4V3-6C-MU-B6-60
859176
Unit Weight: 1.9100
EATON CETOP DG4V3-6C-MU-ED6-60
859179
Unit Weight: 1.9000
EATON CETOP DG4V3-6C-MU-G7-60
859165
Unit Weight: 2.2500
EATON CETOP DG4V3-6C-MU-H7-60
565465
Unit Weight: 2.2500
EATON CETOP DG4V3-8C-VMU-A6-61
02-144961
Unit Weight: 1.9300
EATON CETOP DG4V3-8C-VMU-ED6-60
02-311543
Unit Weight: 1.9200
EATON CETOP DG4V3-8C-VMU-G7-61
02-144957
Unit Weight: 2.2500
EATON CETOP DG4V3-8C-VMU-H7-61
02-145162
Unit Weight: 2.3000
EATON CETOP DG4V3-8C-VMU-NN6-61
02-149428
Unit Weight: 0.0000
EATON CETOP DG4V3-OBL-MU-H7-60
869777
Unit Weight: 0.0000
EATON CETOP DG4V3-S-0AL-MU-G5-60
02-156567
Unit Weight: 1.6500
EATON CETOP DG4V3-S-0AL-MU-H5-60
02-110101
Unit Weight: 1.6420
EATON CETOP DG4V3-S-0A-MU-A5-60
02-146988
Unit Weight: 1.6500
EATON CETOP DG4V3-S-0A-MU-B5-60
02-137934
Unit Weight: 1.6500
EATON CETOP DG4V3-S-0A-MU-G5-60
02-146987
Unit Weight: 1.6500
EATON CETOP DG4V3-S-0A-MU-H5-60
02-110628
Unit Weight: 1.6400
EATON CETOP DG4V3-S-0BL-MU-A5-60
02-157350
Unit Weight: 1.6500
EATON CETOP DG4V3-S-0BL-MU-B5-60
02-110292
Unit Weight: 1.6500
EATON CETOP DG4V3-S-0BL-MU-D5-60
02-110205
Unit Weight: 1.6500
EATON CETOP DG4V3-S-0BL-MU-H5-60
02-110243
Unit Weight: 1.6400
EATON CETOP DG4V3-S-0B-MU-G5-60
02-109040
Unit Weight: 1.6500
EATON CETOP DG4V3-S-0B-MU-H5-60
02-109039
Unit Weight: 1.6600
EATON CETOP DG4V3-S-0C-207-MU-HH5-6
02-317964
Unit Weight: 2.2500
EATON CETOP DG4V3-S-0C-MU-A5-60
02-109046
Unit Weight: 1.8900
EATON CETOP DG4V3-S-0C-MU-D5-60
02-109668
Unit Weight: 2.2000
EATON CETOP DG4V3-S-0C-MU-ED5-60
02-146659
Unit Weight: 1.9000
EATON CETOP DG4V3-S-0C-MU-G5-60
02-109044
Unit Weight: 2.2000
EATON CETOP DG4V3-S-0C-MU-H5-60
02-109043
Unit Weight: 2.2000
EATON CETOP DG4V3-S-2AL-MU-A5-60
02-109036
Unit Weight: 1.6500
EATON CETOP DG4V3-S-2AL-MU-B5-60
02-109830
Unit Weight: 1.6500
EATON CETOP DG4V3-S-2AL-MU-H5-60
02-109037
Unit Weight: 1.6500
EATON CETOP DG4V3-S-2A-MU-A5-60
02-109027
Unit Weight: 1.5000
EATON CETOP DG4V3-S-2A-MU-B5-60
02-109632
Unit Weight: 1.6500
EATON CETOP DG4V3-S-2A-MU-D5-60
02-109642
Unit Weight: 1.6500
EATON CETOP DG4V3-S-2A-MU-ED5-60
02-138035
Unit Weight: 1.5000
EATON CETOP DG4V3-S-2A-MU-G5-60
02-109029
Unit Weight: 1.6500
EATON CETOP DG4V3-S-2A-MU-H5-60
02-109030
Unit Weight: 1.6000
EATON CETOP DG4V3-S-2BL-MU-H5-60
02-138844
Unit Weight: 1.6500
EATON CETOP DG4V3-S-2B-MU-A5-60
02-109033
Unit Weight: 1.6500
EATON CETOP DG4V3-S-2B-MU-G5-60
02-109032
Unit Weight: 1.6600
EATON CETOP DG4V3-S-2B-MU-H5-60
02-109031
Unit Weight: 1.6500
EATON CETOP DG4V3-S-2C-207-MU-HH5-6
02-144367
Unit Weight: 2.2100
EATON CETOP DG4V3-S-2C-MFW-D5-60-EN492
02-324829
Unit Weight: 0.0000
EATON CETOP DG4V3-S-2C-MU-A5-60
02-109057
Unit Weight: 1.9000
EATON CETOP DG4V3-S-2C-MU-B5-60
02-109686
Unit Weight: 202.0000
EATON CETOP DG4V3-S-2C-MU-D5-60
02-109026
Unit Weight: 1.9300
EATON CETOP DG4V3-S-2C-MU-ED5-60
02-146380
Unit Weight: 1.9100
EATON CETOP DG4V3-S-2C-MU-G5-60
02-109055
Unit Weight: 2.2000
EATON CETOP DG4V3-S-2C-MU-H5-60
02-109025
Unit Weight: 2.2000
EATON CETOP DG4V3-S-2F-MU-D5-60
02-138622
Unit Weight: 1.6500
EATON CETOP DG4V3-S-6BL-MU-H5-60
02-109455
Unit Weight: 1.6500
EATON CETOP DG4V3-S-6B-MU-G5-60
02-110980
Unit Weight: 1.6500
EATON CETOP DG4V3-S-6B-MU-H5-60
02-109467
Unit Weight: 1.6400
EATON CETOP DG4V3-S-6C-207-MU-HH5-6
02-155389
Unit Weight: 2.1900
EATON CETOP DG4V3-S-6C-MU-A5-60
02-109050
Unit Weight: 202.0000
EATON CETOP DG4V3-S-6C-MU-B5-60
02-109824
Unit Weight: 202.0000
EATON CETOP DG4V3-S-6C-MU-C5-60
02-109049
Unit Weight: 202.0000
EATON CETOP DG4V3-S-6C-MU-D5-60
02-109661
Unit Weight: 2.2000
EATON CETOP DG4V3-S-6C-MU-ED5-60
02-110969
Unit Weight: 1.8800
EATON CETOP DG4V3-S-6C-MU-G5-60
02-109048
Unit Weight: 2.2000
EATON CETOP DG4V3-S-6C-MU-H5-60
02-109047
Unit Weight: 2.2000
EATON CETOP DG4V3-S-6C-MU-N5-60
02-110689
Unit Weight: 2.2000
EATON CETOP DG4V3-S-8C-207-VMU-GH5-60
02-144105
Unit Weight: 202.0000
EATON CETOP DG4V3-S-8C-207-VMU-HH5-60
02-148950
Unit Weight: 2.2000
EATON CETOP DG4V3-S-8C-VMU-A5-61
02-145187
Unit Weight: 1.9000
EATON CETOP DG4V3-S-8C-VMU-B5-61
02-145188
Unit Weight: 1.9000
EATON CETOP DG4V3-S-8C-VMU-C5-61
02-145189
Unit Weight: 2.2000
EATON CETOP DG4V3-S-8C-VMU-D5-60
02-109954
Unit Weight: 2.2000
EATON CETOP DG4V3-S-8C-VMU-D5-61
02-144939
Unit Weight: 1.9300
EATON CETOP DG4V3-S-8C-VMU-ED5-61
02-300848
Unit Weight: 1.9000
EATON CETOP DG4V3-S-8C-VMU-G5-61
02-145190
Unit Weight: 2.2000
EATON CETOP DG4V3-S-8C-VMU-H5-61
02-145192
Unit Weight: 2.2000
EATON CETOP KBCG3-160D-Z-M2-3-A-PC7- H1-11
02-353264
Unit Weight: 2.2000
EATON CETOP KBSDG4V3-92L40-M1-PH7-H7-11-EN90
6023994-001
Unit Weight: 3.6000
EATON CETOP KDG4V3-2C28S-ZMU-G7-60
02-319405
Unit Weight: 2.3300
EATON CETOP KFDG4V3-2C13NZ-MU1-H7-20
565374
Unit Weight: 0.0000
EATON CETOP KFTG4V3-2B20NZ-MU1-H7-20
565391
Unit Weight: 0.0000
EATON CETOP KTG4V3S-2B08N-MU-H5-60-EN427
02-154581
Unit Weight: 0.0000
EATON KBCG3-160D-Z-M1-2-A-PE7- H1-10
02-352465
Unit Weight: 0.0000
EATON KBCG-3-250D-Z-M1-2-A-PE7-H1-10
02-352466
Unit Weight: 2.5900
EATON KDG4V3-S-2C1-9N-MU-H5-60
02-149542
Unit Weight: 2.2000
EATON KDG4V3-S-33C-22A-MU-H5-60
02-140085
Unit Weight: 2.1800
EATON MODULE DCMX2-5-PA-GW-B-30
868656
Unit Weight: 3.5500
EATON MODULE DGMC-3-AT-CW-41
02-139196
Unit Weight: 1.2000
EATON MODULE DGMX2-5-PP-GW-S-30
868864
Unit Weight: 3.5400
EATON PLUG 7 PIN EMC/IP67
934939
Unit Weight: 0.0000