Hydraforce Electronic Controls
Hydraforce Supplies rugged electronic valve drivers, control units, operator interfaces and sensors designed specifically for the demanding mobile equipment markets
EVDR
EVDR proportional valve drivers pre-configured for convenient application on general purpose proportional valve driving applications with 1 input and 1 – 2 outputs.
9-32VDC
IP69K
Outputs up to 2A
CAN Bus
Deutsch Plug Connections
ECDR
ECDR Valve drivers are fully configurable to any hydraulic control application. Simple or complex logic can be developed to work with your application.
Up to 6 inputs and 5 outputs
9-32VDC
Up to I69K
Outputs up to 2A
Can Bus
Deutsch Plug Connections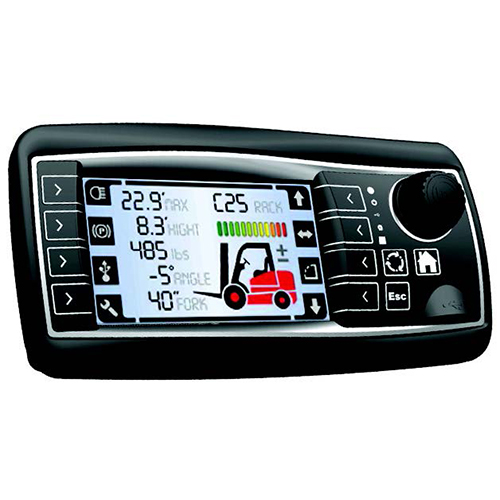 HYDRAFORCE A6 MOUNTING KIT
4000412
Unit Weight: 0.0000
HYDRAFORCE ADAPTOR USB-CAN
4000371
Unit Weight: 0.7000
HYDRAFORCE AMPSEAL CONNECTOR 23 PIN BLACK
4000360
Unit Weight: 0.7000
HYDRAFORCE AMPSEAL CONNECTOR 23 PIN BLUE
4000362
Unit Weight: 0.7000
HYDRAFORCE AMPSEAL CONNECTOR 23 PIN GREY
4000361
Unit Weight: 0.7000
HYDRAFORCE AMPSEAL CONNECTOR 35 PIN
4000381
Unit Weight: 0.0340
HYDRAFORCE AMPSEAL CONNECTOR 8 PIN BLACK
4000363
Unit Weight: 0.7000
HYDRAFORCE AMPSEAL SEALING PLUGS 100 PKT
4000370
Unit Weight: 0.7000
HYDRAFORCE AMPSEAL SOCKETS GOLD (100 PKT)
4000369
Unit Weight: 0.7000
HYDRAFORCE CONFIGURATION CABLE EVDR1
4001605
Unit Weight: 0.0550
HYDRAFORCE CONFIGURATION CABLE EVDR4
4000698
Unit Weight: 0.1100
HYDRAFORCE CONNECTOR AMPSEAL 26-PIN
4000415
Unit Weight: 0.0300
HYDRAFORCE CONNECTOR DEUTSCH DT06-2S
4001417
Unit Weight: 0.0070
HYDRAFORCE CONNECTOR KIT DT06-12SA GOLD
4001956
Unit Weight: 0.0000
HYDRAFORCE CONNECTOR KIT DT06-12SB GOLD
4001965
Unit Weight: 0.0000
HYDRAFORCE CONNECTOR KIT DT06-3S GOLD
4001952
Unit Weight: 0.0010
HYDRAFORCE CONNECTOR KIT DT06-4S GOLD
4001953
Unit Weight: 0.0010
HYDRAFORCE CONNECTOR KIT DT06-6S GOLD
4001954
Unit Weight: 0.0160
HYDRAFORCE CONNECTOR KIT DT06-8SA GOLD
4001955
Unit Weight: 0.0200
HYDRAFORCE CONNECTOR KIT DTM06-12A GREY
4001976
Unit Weight: 0.0180
HYDRAFORCE CONNECTOR KIT DTM06-12B BLACK
4001977
Unit Weight: 0.0180
HYDRAFORCE CONNECTOR KIT DTM06-2S
4001970
Unit Weight: 0.0340
HYDRAFORCE DISPLAY A3 FULL LANDSCAPE
4000401
Unit Weight: 0.0000
HYDRAFORCE DISPLAY A3S BASIC LANDSCAPE
4000400
Unit Weight: 0.5600
HYDRAFORCE DISPLAY A6 FULL LANDSCAPE
4000408
Unit Weight: 0.0000
HYDRAFORCE ELECTRONIC CONTROLER ECU-3233A
4000343
Unit Weight: 0.0000
HYDRAFORCE ELECTRONIC CONTROLLER
4000167
Unit Weight: 0.2500
HYDRAFORCE ELECTRONIC CONTROLLER 0-10VDC DIN COIL MOUNT 1200mA
4000165
Unit Weight: 0.2500
HYDRAFORCE ELECTRONIC CONTROLLER 0-10VDC METAL BOX
4000182
Unit Weight: 0.4000
HYDRAFORCE ELECTRONIC CONTROLLER 0-10VDC PCB BOARD 2000mA
4000141
Unit Weight: 0.0500
HYDRAFORCE ELECTRONIC CONTROLLER 0-5VDC
4000161
Unit Weight: 0.2500
HYDRAFORCE ELECTRONIC CONTROLLER 0-5VDC DIN RAIL MOUNT 2000mA
4000136
Unit Weight: 0.0300
HYDRAFORCE ELECTRONIC CONTROLLER 4-20mA DIN COIL MOUNT 1200mA
4000169
Unit Weight: 0.2500
HYDRAFORCE ELECTRONIC CONTROLLER 4-20mA DIN COIL MOUNT 600mA
4000171
Unit Weight: 0.2500
HYDRAFORCE ELECTRONIC CONTROLLER DUAL SOLENOID 2000mA
4000149
Unit Weight: 0.8400
HYDRAFORCE ELECTRONIC CONTROLLER ECDR-0506A-001
4208560
Unit Weight: 0.3660
HYDRAFORCE ELECTRONIC CONTROLLER ECU-0710
4000351
Unit Weight: 0.7000
HYDRAFORCE ELECTRONIC CONTROLLER ECU-0809
4000350
Unit Weight: 0.4900
HYDRAFORCE ELECTRONIC CONTROLLER ECU-2032
4000355
Unit Weight: 0.7000
HYDRAFORCE ELECTRONIC CONTROLLER ECU-2415
4000352
Unit Weight: 0.7000
HYDRAFORCE ELECTRONIC CONTROLLER ECU-2820
4000356
Unit Weight: 0.7000
HYDRAFORCE ELECTRONIC CONTROLLER EFDR-0201A
4204710
Unit Weight: 0.0800
HYDRAFORCE ELECTRONIC CONTROLLER EFDR1
4204500
Unit Weight: 0.0000
HYDRAFORCE ELECTRONIC CONTROLLER EVDR-0101A
4204800
Unit Weight: 0.0720
HYDRAFORCE ELECTRONIC CONTROLLER EVDR-0201
4209160
Unit Weight: 0.0790
HYDRAFORCE ELECTRONIC CONTROLLER EVDR-0201A
4204700
Unit Weight: 0.0790
HYDRAFORCE ELECTRONIC CONTROLLER EVDR1
4204030
Unit Weight: 0.0600
HYDRAFORCE ELECTRONIC CONTROLLER EVDR4
4000245
Unit Weight: 0.4400
HYDRAFORCE ELECTRONIC CONTROLLER PWM 2000mA METAL BOX
4000133
Unit Weight: 0.4000
HYDRAFORCE ELECTRONIC CONTROLLER PWM PCB BOARD 1200 mA
4000194
Unit Weight: 0.0250
HYDRAFORCE ELECTRONIC CONTROLLER PWM PCB BOARD 2000 mA
4000144
Unit Weight: 0.0600
HYDRAFORCE ELECTRONIC CONTROLLER PWM PCB BOARD 2000 mA
4000046
Unit Weight: 0.0250
HYDRAFORCE ELECTRONIC CONTROLLER PWM PCB BOARD 600 mA
4000196
Unit Weight: 0.0600
HYDRAFORCE ELECTRONIC CONTROLLER PWM PCB BOARD 800 mA
4000195
Unit Weight: 0.2500
HYDRAFORCE ELECTRONIC CONTROLLER SOFT SHIFT 2000mA
4000072
Unit Weight: 0.3500
HYDRAFORCE ELECTRONIC CONTROLLER SOFT SHIFT 650mA
4000226
Unit Weight: 0.3300
HYDRAFORCE MEASUREMENT ADAPTOR
4000372
Unit Weight: 0.0000
HYDRAFORCE MOUNTING KIT A3
4000405
Unit Weight: 0.3200
HYDRAFORCE MOUNTING KIT DASHBOARD A3
4000406
Unit Weight: 0.0700
HYDRAFORCE POWER CABLE A3
4000403
Unit Weight: 0.0000
HYDRAFORCE PRESSURE SENSOR 207 BAR 9 -36 VDC DEUTSCH DT04 3 PIN
4000657
Unit Weight: 0.1000
HYDRAFORCE PRESSURE SENSOR 35 BAR 9 -36 VDC DEUTSCH DT04 3 PIN
4000655
Unit Weight: 0.0000
HYDRAFORCE PRESSURE SENSOR 414 BAR 9 -36 VDC DEUTSCH DT04 3 PIN
4000659
Unit Weight: 0.1000
HYDRAFORCE SHOCK COVER KIT
4206820
Unit Weight: 0.7000
HYDRAFORCE THERMISTOR TEMPERATURE SENSOR ERT120-R-LD-06
4206200
Unit Weight: 0.1230
HYDRAFORCE VIDEO CABLE 1M
4000411
Unit Weight: 0.1600