Autec Radio Remote Controls
Autec Radio controls are designed in Italy to meet the demanding requirements of their customers.
Autec's mission is to provide ideal instruments for machine control, increasing productivity and safety, no matter how challenging the situation. We do this through reliable, easy-to-use products that are 100% tested and functionally safe.
All units are built with high quality components in a modular design which makes it possible to design each remote to their customers needs and be able to easily repair or replace individual parts of the radio control.
Hyspecs is able to supply customised units to meet your control system requirements, please contact us to discuss yourjm requirements with one of our engineers today.
Air Series Handheld Ergonomic handheld and light weight
Standard options available as well custom labelling and programming
Single and 2 stage push button options
IP65 rating
Feedback LED's as standard or other options available
AC and DC receiver options available
CAN Bus communications options
Rechargeable Lithium Ion battery with up to 40 hour battery life, AC and DC battery charger supplied
Robust and durable drop resistant up to 1.5 metres with rugged fibre reinforced nylon housing
433MHz radio with automatic frequency search at start-up
Range 100m with adjustable range limiting and low power start-up available
Safety rated receiver up to PLd (cat 3)
Programmable function button
Optional side toggle switch or potentiometer available on some models
Pin code on start up to prevent unauthorised use
Tandem/ Pitch – Catch/ Multi receiver systems available on request.
Dynamic Series
Designed for use in mobile hydraulic applications each unit is custom designed and labelled to meet the customers' requirements
Analog and digital commands, up to 12 proportional and 64 digital
Robust fibre reinforced nylon enclosures
IP65
Data feedback options available
CAN Bus communication available
Range 100m
Rechargeable battery with up to 11 hours battery life
Safety rate receiver options up to PLe (cat 4) EN ISO 13849-1/ SIL 3 (EN IEC 62061)
FHSS (frequency hopping) allows uninterrupted communication between receiver and transmitter even in the most challenging environments. This 2-way communication is also optimized for a fast data link to receive feedback from the unit, such as alarms, sensor triggers, load weight, distances and other measures.
Marine environment protection
Shoulder strap or waist belt options
Cable control option available
Optional tilt sensor to shut down system if dropped or operator falls
Electronic smart-key for identity coding and set to work of spare transmitter
Speeds teachable from transmitter
Actuator options:
            Button
            Toggle switch
            Proportional paddle
            Joystick
            Potentiometer
            Other options available
Applications:
Cranes & Hoists
Tower Cranes
Mobile Cranes and Borers
Drill Rigs
Elevating Work Platforms
Concrete Pumps
Concrete mixers
Telehandlers
Drain and Suction Cleaners
Tow trucks
Tracked Vehicles
Marine
Forestry & Agriculture
Special Purpose Machines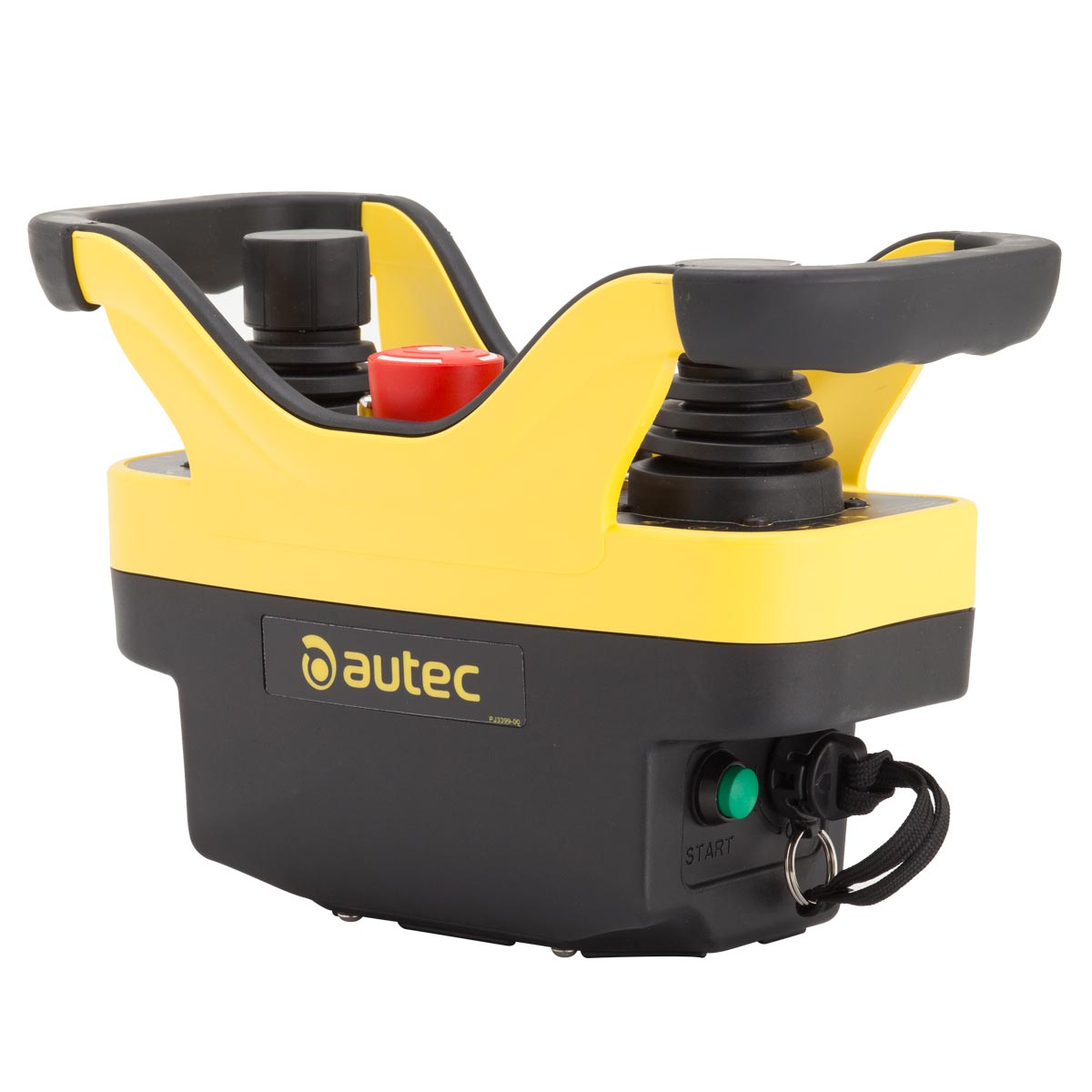 Autec Radio Remote Controls Range
AUTEC
Unit Weight: 0.0000