Cmg 1-Phase Electric Motors
Complete  range from 0.25 kW to 315 kW.

REGAL (CMG) motors are designed and produced to International Standard IEC 60034 and IEC

60072 & AS1359

MEPS2 compliant (Eff1)

The MTC, HLA & HGA series are designed for 400 VAC, 50 Hz operation and are rated to IP55.

A wide range of other motor options are available on request i.e. Different poles, braked, flameproof, dustproof, DC motors etc. Please contact Hyspecs for more information.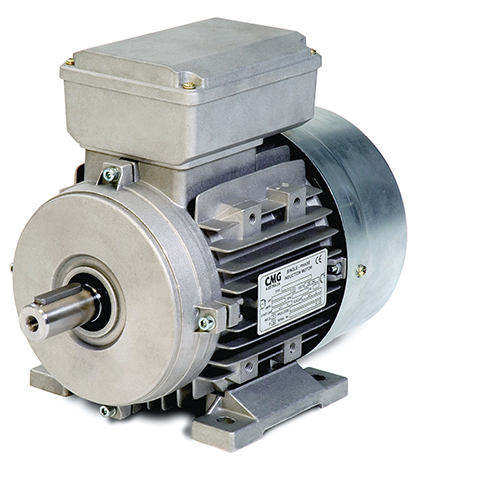 CMG ELECTRIC MOTOR 0.25 KW 4 POLE B3/14A 71A FRAME SINGLE PHASE
M24000256MTC
Unit Weight: 5.9000
CMG ELECTRIC MOTOR 0.25 KW 4 POLE B3/5 71A FRAME SINGLE PHASE
M24000254MTC
Unit Weight: 5.9000
CMG ELECTRIC MOTOR 0.37 KW 4 POLE B3/14A 71B FRAME SINGLE PHASE
M24000376MTC
Unit Weight: 6.9000
CMG ELECTRIC MOTOR 0.37 KW 4 POLE B3/5 71B FRAME SINGLE PHASE
M24000374MTC
Unit Weight: 6.9000
CMG ELECTRIC MOTOR 0.55 KW 4 POLE B3/14A 80A FRAME SINGLE PHASE
M24000556MTC
Unit Weight: 9.6000
CMG ELECTRIC MOTOR 0.55 KW 4 POLE B3/5 80A FRAME SINGLE PHASE
M24000554MTC
Unit Weight: 9.6000
CMG ELECTRIC MOTOR 0.75 KW 4 POLE B3/14A 80B FRAME SINGLE PHASE
M24000756MTC
Unit Weight: 10.8000
CMG ELECTRIC MOTOR 0.75 KW 4 POLE B3/5 80B FRAME SINGLE PHASE
M24000754MTC
Unit Weight: 10.8000
CMG ELECTRIC MOTOR 1.1 KW 4 POLE B3/14A 90S FRAME SINGLE PHASE
M24001106MTC
Unit Weight: 13.5000
CMG ELECTRIC MOTOR 1.1 KW 4 POLE B3/5 90S FRAME SINGLE PHASE
M24001104MTC
Unit Weight: 13.5000
CMG ELECTRIC MOTOR 1.5 KW 4 POLE B3/14A 90L FRAME SINGLE PHASE
M24001506MTC
Unit Weight: 16.5000
CMG ELECTRIC MOTOR 1.5 KW 4 POLE B3/5 90L FRAME SINGLE PHASE
M24001504MTC
Unit Weight: 16.5000
CMG ELECTRIC MOTOR 2.2 KW 2 POLE B3/14A 90 FRAME SINGLE PHASE
M22002206MTC2
Unit Weight: 0.0000
CMG ELECTRIC MOTOR 2.2 KW 4 POLE B3/14A 100LA FRAME SINGLE PHASE
M24002206MTC
Unit Weight: 24.0000
CMG ELECTRIC MOTOR 2.2 KW 4 POLE B3/5 100LA FRAME SINGLE PHASE
M24002204MTC
Unit Weight: 24.0000
CMG ELECTRIC MOTOR 3 KW 4 POLE B3/14A 100LB FRAME SINGLE PHASE
M24003006MTC
Unit Weight: 30.0000
CMG ELECTRIC MOTOR 3 KW 4 POLE B3/5 100LB FRAME SINGLE PHASE
M24003004MTC
Unit Weight: 30.0000
CMG ELECTRIC MOTOR 3.7 KW 4 POLE B3/14A 112M FRAME SINGLE PHASE
M24003706MTC
Unit Weight: 36.0000
CMG ELECTRIC MOTOR 3.7 KW 4 POLE B3/5 112M FRAME SINGLE PHASE
M24003704MTC
Unit Weight: 36.0000